Melanie Gallucci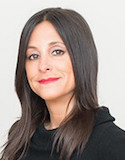 Having spent most of her life in the New York metropolitan area, Melanie has always held a strong love for Manhattan. She has resided in Manhattan for over 20 years since attending Indiana University where she earned her Bachelors degree.
Melanie is no stranger to executing sales transactions and maintaining strong client relations. She began her career in advertising sales at Lycos Inc., one of the original internet brands in the world, which has evolved into a comprehensive digital media destination for consumers across the world.
She then excelled in Pharmaceutical Sales where she, in association with Upsher-Smith and later Sanofi Aventis, worked closely with esteemed Cardiologists, ObGyns, General Practictioners and Dermatologists selling prescription drugs.
Melanie currently resides on the Upper East Side with her husband and three children. The Gallucci's have philanthropic ties to the American Heart Association, the American Cancer Society and The COPE Foundation. As a family they enjoy exploring all New York City has to offer.