Deborah Pevenstein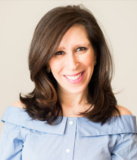 Deborah Pevenstein brings great energy and client advocacy to Maxwell Jacobs in her partnership with the firm's founder.
Deborah is a creative thinker, committed to finding her clients the right neighborhood, building, and home. She is a team player who navigates the ongoing and complex conversations during a real estate search. She is straight-forward, detail-oriented, and sophisticated about New York real estate and financial transactions. Her energy and enthusiasm is contagious.
Deborah draws on 15 years of success in leadership roles at Fortune 100 companies and high-growth start-ups. As VP of Strategic Sales at TravelClick, a private equity-backed technology company, Deborah advised hotel clients globally on strategies to drive top-line revenue, resulting in more than $30 million in annual sales. Her experiences with Citigroup and Pfizer schooled her in process, due-diligence, best practices, and patience.
Deborah graduated from Washington University in St. Louis, and earned her MBA from the University of Chicago. She speaks English, Hebrew, Spanish, and Portuguese.
A native Washingtonian, Deborah has lived in New York for the last 15 years. She and her husband Anurag live on the Upper West Side with their son Max and dog Ella. Deborah is an avid skier, enjoys a healthy lifestyle, and has a passion for interior design.